Crunchy Baked Asparagus Fries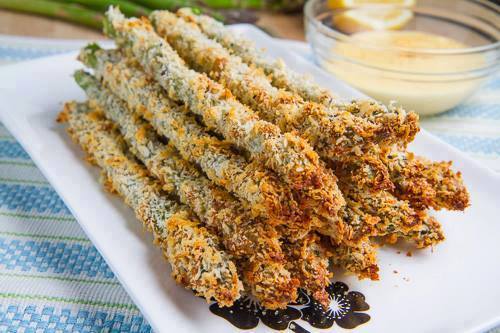 Crunchy Baked Asparagus Fries
Serves 4
Ingredients:
1lb asparagus spears, washed and trimmed
1 1/3 cup high fiber cereal (like Fiber One)
1/4 cup liquid egg substitute (like Eggbeaters)
2 tsp garlic powder
1/4 cup whole wheat flour
1 tsp salt
1/2 tsp black pepper
Directions:
Preheat oven to 375°F.
Place cereal, salt, pepper, and garlic powder into a food processor and pulse until finely ground and powder-like. Pour mixture into a shallow dish.
Dredge cut asparagus spears in flour and shake off excess (not much flour will stick to the waxy spears, but that's okay).
Dip each spear into the liquid egg followed by the cereal mixture. Cover each spear in the cereal mixture until fully coated. Season with additional salt and pepper.
Place coated spears onto a parchment lined baking sheet and spray with a light coating of cooking spray. Bake for 15 to 20 minutes or until crisp and lightly
Enjoy!