GRILLED LAMB CHOPS SCOTTADITO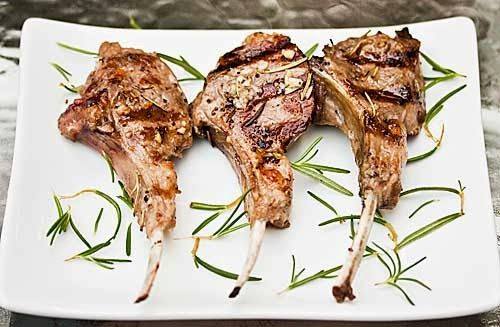 GRILLED LAMB CHOPS SCOTTADITO

Makes approx 6 servings
INGREDIENTS

12 rib lamb chops
2 cloves garlic, finely chopped
2 tablespoons chopped fresh rosemary
1/4 cup extra-virgin olive oil
Salt and pepper to taste
DIRECTIONS
1. In a small bowl stir together the garlic, rosemary, olive oil, salt and pepper. Place the lamb chops in a shallow dish and pour the marinade over them, turn the cops to coat both sides. Cover and refrigerate at least 2 hours.
2. Start a fire in a charcoal grill or preheat a gas grill. Place the chops on the rack over high heat and grill turning once, 5 minutes per side for medium rare. The outside will be well seared with the insides still pink.
3.Transfer to a warm platter and serve immediately.