High Protein Gourmet Goujons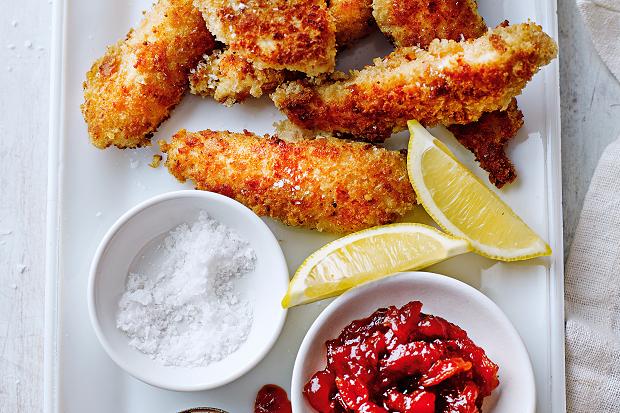 You guys are going to love this one!
It's simple, delicious and packed full of Protein.
Sometimes we need some comfort style food to add into our healthy eating plans and convenience can sometimes = frozen ready meals or microwavable alternatives.
The problem with this is that while they may be convenient, they are normally high in fat, processed with unnatural ingredients and give us no nutritional benefit.
Give these a try and I guarantee they will be a regular in your household!
Recipe: Per Serving
Ingredients:
1 chicken breast, cut into strips
200g Natural Greek Yogurt
1/2 lemon zest
1 tsp smoked paprika
80g oats, blended into flour (you probably wont use all of it)
1 tsp garlic
1 bunch of fresh mint, finely chopped
1 splash white wine vinegar
sea salt
black pepper
splash of olive oil
1 tsp chili powder
1 tsp balsamic vinegar
Method:
In a bowl add your yogurt, lemon zest, white wine vinegar, olive oil, paprika, salt and pepper then mix together. Pour 1/4 of the mixture to the side to keep for your sauce.
Add your oat flour into a bowl with paprika, chili powder, salt and pepper.
Coat your chicken strips in yogurt and then coat evenly in the flour mixture.
Once all strips are coated place in the over at 180c or 380f for 25 minutes.
Take your remaining sauce, add a little more garlic, finely chopped mint, salt, pepper, balsamic vinegar and serve!
ENJOY 🙂