KALE BLT SALAD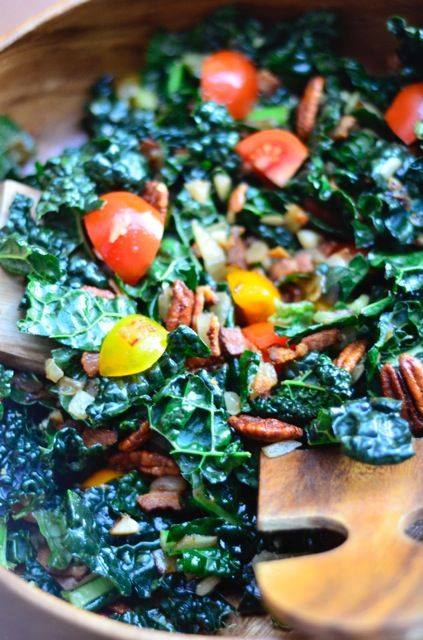 KALE BLT SALAD
Makes 4 servings
Best if olive oil and vinegar is massaged into the leaves and left to sit for about 20-30 minutes to soften the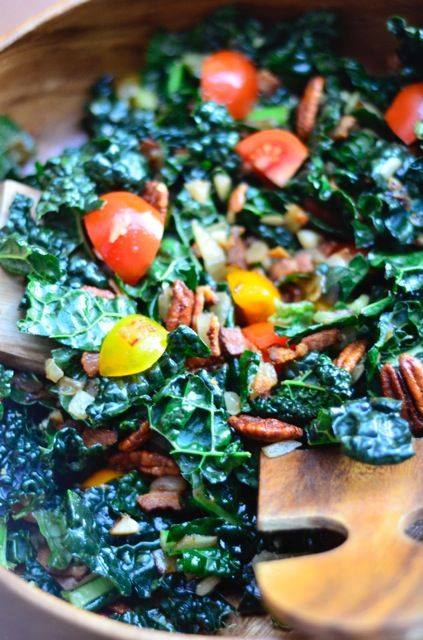 kale before serving.
INGREDIENTS
1 10 oz. bag Tuscan Curly Kale
1 pound bacon, sliced into 1/4-inch pieces
Onions, garlic, shallots (about 3/4 cup – I use Trader Joe's "fresh, cut, and ready")
1 cups heirloom tomatoes, halved
1 cup spicy pecans (I buy Trader Joe's)
Olive oil
Golden Balsamic Vinegar
DIRECTIONS
1. Cook the bacon pieces until crisp; place on a paper towel to drain. Pour the grease in a separate jar or container (or toss), leaving about 2-3 T. of bacon grease in the pan. Add the onions, garlic, and shallots mixture. Cook until soft and clear, about 2-3 minutes.
2. Remove kale from the bag placing in the serving salad bowl. Add the warm onion mixture. Toss and set aside for 20-30 minutes to soften the leaves.
3. Add the chopped tomatoes, bacon, and pecans to the salad bowl; toss.
4. Drizzle with olive oil and golden balsamic vinegar; serve.