Stuffed Chicken Protein Pockets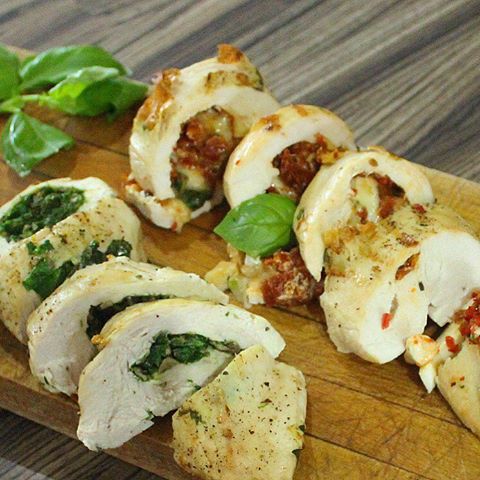 Ingredients:
2 4oz Chicken Breasts
1/2 cup sundried tomatoes
1/2 cup fresh low fat mozzarella
1/2 a chilli, finely chopped
1 handful of fresh basil
1/4 cup finely chopped chest nut mushrooms
1/4 cup finely chopped spinach
Non stick cooking spray
Sea Salt
1 tsp lime zest
Black Pepper
Fresh Thyme
Method:
Pierce your chicken from the very top with a pairing knife and push until you almost hit the bottom. Slice a little to the left to create a large pocket.
In a bowl add your sundried tomatoes, mozzarella, chilli, lime zest,  sea salt and pepper. Mix well.
In a separate bowl add your spinach, thyme, mushrooms, sea salt and pepper. Mix well.
Stuff your chicken breasts delicately with each stuffing so you have one of each then place to the side.
Pre-heat your pan to medium high and sear both your chicken breasts for 2 minutes on each side.
Preheat your oven to 180c/356f and cook your pockets for 20-25 minutes.
When fully cooked, take them out and leave to rest for 3-4 minutes before slicing and serving.
Nutritional Information (based on serving half of each to 1 person)
Calories: 350kcals
Protein: 37g
Carbohydrates: 5g
Fat: 10g