Upgrade your boring Steak and Rice with our Delicious Chimichurri Sauce!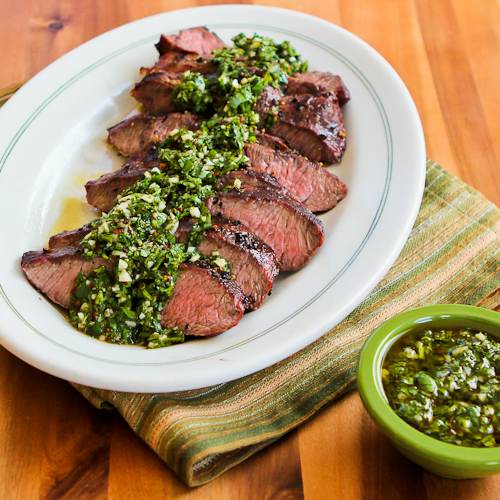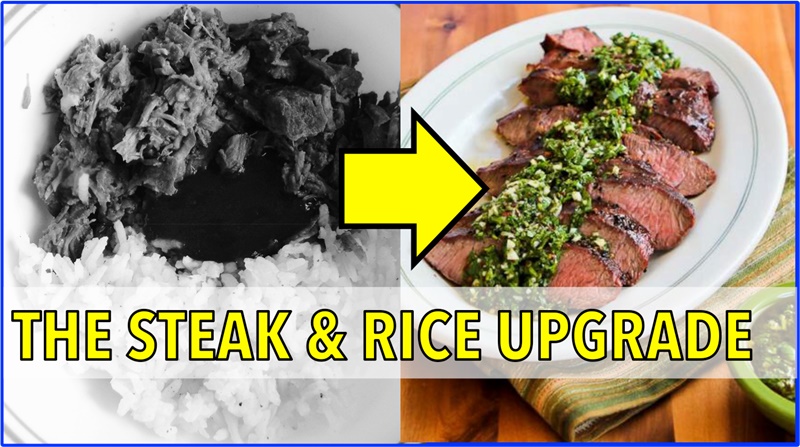 Steak and Rice…..
The generic staple in many bodybuilders nutrition plan and a go to for most people in the fitness industry.
I for one have no problem consuming Steak on a daily basis however, having tried and tested a few simple methods to spice up routine recipes I had to show you guys this quick and easy method.
Chimichurri Sauce!
A traditional Brazilian recipe that packs a huge punch with flavour and keeps the calories almost identical.
Chimichurri Steak with Lemon Infused Rice
Serves 1
Ingredients:
1 8oz Rump Steak, fat trimmed
1 Bunch of Fresh Parsley
1 Bunch of Fresh Oregano
½ cup of Basmati Rice
1 Lemon, juice + zest
1 red chili, finely chopped
1 Red Onion, peeled
2 Garlic Cloves, finely chopped
1 tbsp Sherry Vinegar
1 Tbsp Olive Oil
Pinch Sea Salt
Pinch Black Pepper
Directions:
Make sure your steak is at room temperature, cut in half, season with salt and pepper then place into a mixing bowl.
On a chopping board, finely chop your parsley and oregano then add to the mixing bowl.
Chop your onion in half, dice one half and slice the other roughly. Place the diced half into the mixing bowl.
Finely chop your chilli and place into the mixing bowl along with the zest and juice of half your lemon, garlic, sherry vinegar and olive oil.
Get your hands in and marinade the beef then place to the side for 15 minutes.
While the meat is marinating, add your rice to a pot with just over 1 cup of water, bring to a boil then reduce to a simmer for 15 minutes.
When the rice is about half done, take your steak and place onto a preheated griddle pan on a very high heat and cook for 3 minutes on each side.
Leave steaks to rest for 4 minutes, add your onions to the same pan and cook while the steaks rest until they become soft.
Squeeze the other lemon into the rice, zest it in as well then serve with your steak sliced. Add on your extra Chimichurri Sauce and enjoy!